[rev_slider feejeeexperience]
Hop on & Hop Off or book a package with all transport and accommodation. Dreamy beaches in south pacific islands await on the award winning Fiji Experience. Pick a pass and off you go. Super simple to get around and a great way to meet people in Fiji.
Book Now
Fiji Experience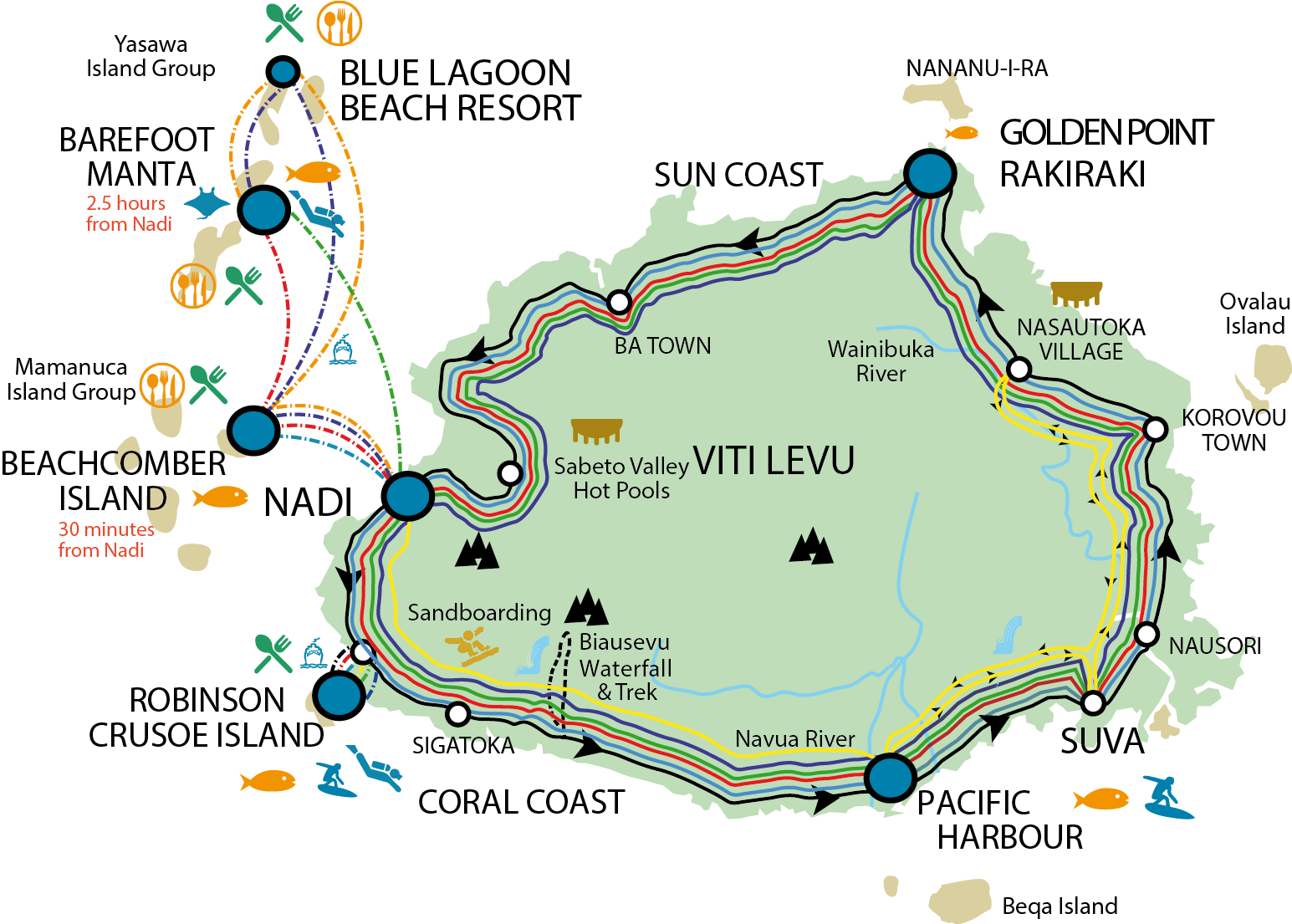 Fiji Experience Highlights Include:
Swimming with the Manta Rays at Mantaray Island Resort
Sevu-sevu ceremony: Taking part in a traditional kava ceremony is a privilege and is an ancient practice still practiced in Fiji regularly.
Visit a real village: No experience compares to a visit to a Fijian village. Take the time and effort to have a chat and hang around with the locals for a few extra rounds of kava.
Beachcomber Island, world famous in Fiji this is a must!
Suva City: The largest city in the South Pacific (excluding New Zealand and Australia of course). Bustling with activity as the cultures of Fiji mesh.
 
Fiji Experience Passes.
We have 4 passes available
9-day Triple Treat
8-day Mango´s & Manta rays
6-day Lay Low
4-day Whole Hula!
Click on the pass for the details.
AMAZING FIJI RESORT ACCOMMODATION – ON A BUDGET!
The Fiji Experience offers the best in Fiji budget resorts at the best value for money. The accommodation includes everything you could want in an island experience including beaches, diving, snorkelling and loads of other free activities included in your accommodation price. Your Guide can book and guarantee your accommodation for you daily in dorm, double or twin style rooms –  Sega Na Laga (NO WORRIES !).
AMAZING RESORTS…
Stay at award winning accommodation that is environmentally aware, yet very comfortable and located in fantastic settings at budget price. Here is why we choose them for your Fiji adventure!
Volivoli Beach Resort: All the elements of beachside living come together at Volivoli Beach, with a perfect blend of relaxation, water sports, nightlife, cultural activities, fantastic fishing spots and world-class diving. The complex stretches along the coast from a hidden cove to a stunning sand spit, with its own Fiji-style thatched-roof beach bar. A variety of accommodation is available to suit all preferences. This is Fiji's newest resort and have spared no expense to make this place truly unforgettable! Oh and did we say WORLD CLASS DIVING!!
Robinson Crusoe: Robinson Crusoe Island has been an icon in Fiji for nearly two decades
Uprising Beach Resort: Located in Pacific Harbour, these guys won the best budget accommodation award for 2009 & 2010! This is an amazing beach front property with Beachfront Bures, Garden Bures, and Dorm Style accommodation. The restaurant produces amazing meals at budget prices! Free and paid activities operate daily including Jet Ski Safaris , Shark Diving (pre-booking suggested) and other Motorised Water Sports.
Beachcomber Island Resort: Afloat in a tranquil marine sanctuary in the beautiful Mamanuca Islands, this little island paradise offers so much for so little. Fantastic island feasts, a huge range of water sports, scuba diving, nightly live music and entertainment. Beachcomber Island is world famous and exactly why we recommend it.
Mantaray Island Resort: There is a host of small, budget resorts in the Yasawa Island Group but after a lot of looking around, we chose what we know is the best! Mantaray Island Resortaward-winningod, a world class reef right on its beach and great facilities for an island resort. This little bit of paradise cannot be beaten for sun, fun and entertainment. Swim with the majestic Manta Rays from May " October, you may be a little lucky outside of these times!
Robinson Crusoe Island:A favourite with backpackers for many years! Famous for its legendary fire dancers and laid back atmosphere.
GUARANTEED ACCOMMODATION!…
If you pre-book an accommodation inclusive pass your accommodation is booked and guaranteed! We've also discounted it as part of the package so you get an immediate saving! If you book a Transport only pass we will guarantee to be able to get you shared Dorm accommodation, however Private Double / Twin is not. We will try our best but Private Rooms do fill up pretty quickly!   Please note during peak season we will might have to put you up in an alternative accommodation option depending on availability. Alternative accommodations will be of an equal standard. To avoid this please book early so we can booking your accommodation accordingly.
Trip Frequently Asked Questions
Included
Please see each individual passes for inclusions relevant to that pass. To make sure your hard-earned cash goes as far as possible, the following activities are included on the Fiji Experience passes. That means, no additional cost for all the fun stuff, which means more money to sit back and enjoy those long awaited, famous Fijian cocktails at some of Fiji´s best beach resorts. All activities are optional and should you not want to do them, there's always the beach!
Excluded
Flights to Fiji
Travel Insurance
Spending Money
Meals unless stated on the itinerary. Meal plans are common in most Fiji resorts and are also applicable at several other Fiji Experience resorts including Robinson Crusoe Island, Beachcomber Island, Mantaray Island and Blue Lagoon Resort. It's payable upon arrival at the resort.