[rev_slider thai-kohtaoadv]

If you like the sound of beaches to die for, superb nightlife and some incredible adventure activities with a cool group of travellers then the Koh Tao adventure is the trip for you. Each week has a new adventure. All you have to do is decide which activities to pick and how long you want to go for.
 Ready for the Koh Tao Adventure?
Book Now
How much fun you will have depends on how long you can stay, whether you have one week or one month we have plenty to keep you entertained with an action packed itinerary.
The Koh Tao adventure includes the following:
Pick up from the pier
Welcome dinner to meet the rest of the group with our rep
In country support
One activity option per week
Stand Up Paddle session
Discover Scuba Dive
Longtail boat tour around the island
Visit Koh Nang Yuang, stunning little island
Snorkelling
Full Moon Party Ticket min stay 2 weeks (if your timing is right)
All accommodation
Free Wi-Fi in resort
You probably don't want to go all the way to Asia to miss out on the gorgeous beaches, Koh Tao has plenty. However, if you are like us, beaches are never enough, and you also want some serious fun and adventure. With The Koh Tao Adventure, you can pick your own itinerary by choosing from some of the incredible included adventures. You can even sneak in a cheeky Full Moon Party and let the good times roll with an awesome adventure day in the first week.
Koh Tao Adventure Highlights
Going out for a gorgeous Thai meal so you can meet the rest of the group
You will never have a dull moment, with plenty of plenty of Xtreme activities included (see below)
You can top up your tan and laze around on some of the amazing beaches you have plenty of chill time as well.
As the sun goes down that nightlife heats up, Koh Tao has amazing nightlife you will make friends from all over the world.
Relax into the swing of things, we make it easy with comprehensive intro session to the island, and our rep is there to help you every step of the way.
You will be amazed by what you can achieve when you challenge yourself, with the snorkelling and climbs to viewpoints, stand up paddling and a Discover Scuba dive session!! Question is, can you handle this much fun?
You have plenty of time to also explore some of Thailand's beautiful underwater environments, with crystal clear waters and amazing snorkelling you might just get hooked.
It's your holiday, so we set you up in a beautiful resort with gorgeous Thai tropical gardens and a nice refreshing pool and its own restaurant. See accommodation section for more information.
Includes one amazing activity per week. Crossfitt, Muay Thai, Yoga… take your pick!
The Xtreme Activities
If you want to stay longer than 1 week, and chill out on one of Thailand's most incredible paradise islands, you can book extra weeks, to complete the other Koh Tao Adventure options (one per week).
The longer you stay the better value the trip is. If you want to spend 2 months in Thailand, you can combine the Thailand Adventure and the Koh Tao Adventure giving you 2 months in Thailand. Or combine the Koh Tao Adventure with any other trip we run in Thailand or anywhere else in Asia! We have some amazing suggestions, so tell us about your plans and we can see what would suit you best. That is what we are here for.
These are the weekly options, you can choose one per week.
Next to the options we also include the amazing Adventure Day, and a ticket to the Full Moon Party with a minimum stay of 2 weeks,  if this goes inside your travel dates
Cross Fit Package
Muay Thai Package
Yoga Package
Beginner Freediving Package
Read more about all this in the Details tab.
Nightlife & Beach Time
Koh Tao is not only famous for its great diving and beautiful beaches, there is quite a party scene there too! Picture this: Cool beach bars, fire shows, awesome night clubs like Fizz bar all within easy stumbling distance to your accommodation. If you want to have some serious fun after the sun sets, you will not be disappointed.
Crossfit, Muay Thai, Yoga  or  Freediving? What should I Pick?
How adventurous are you?! Some of our top-rated activities are in Koh Tao and they are waiting for you, the tough choice is what to do?!
We know Koh Tao only too well, we started Xtreme Gap here, lived and breathed the life here and so we know how to show you a great time – all over the island and in the water around it. It is a paradise island that you could easily fall in love with, spending months relaxing here. We have the perfect cure for all this laziness, with the following adventure options.
Available Included Xtreme Activities On Koh Tao
So when you are lying on a dreamy white sandy beach, in a paradise setting wouldn't it be nice to have the body to match. With our cross fit package, you can! Five full-on cross fit sessions, with professional accredited Cross fitness trainers will whip you into shape so you will not feel guilty about lazing on the beach, and dipping into the Gulf of Thailand will be so much more rewarding.
If you have not done CrossFit before you need to come to the 4 different Foundation classes before you can do the regular classes. These 4 classes will teach you all the basic movements and techniques for CrossFit, so that you are able to do the movements safely and effectively. These classes are similar to personal training as our coach will spend lots of time helping them with the movements.
We run the Foundation classes every day at 10.15am and so they can easily do the Foundation classes in a week.
Check out the video below it is the latest fitness craze that has become huge. It's highly effective high-intensity WODS (work out of the day) mixes hundreds of different techniques and every day is always different. With this option is the perfect way to get into excellent physical shape and get that perfect beach bod
The fit package is the most popular option. It includes 5 Muay Thai sessions taken over five days. It doesn't matter if you've never done it before, learning the national sport of Thailand in a cool jungle gym is an awesome experience. It is a great way to try something new, get really fit and learn much more about the culture of Thailand.
You will undergo a modified non-contact training regime in the camp that host monthly Muay Thai fights, a really authentic and cool experience!
Some like to do it in the morning and then hit the beach others like the cooler evening training times.
Probably one of our most chilled out options, you have five sessions working on your well-being, and flexibility with a fantastic yoga package. Set in landscaped gardens surrounded by coconut groves there's a special feeling about the place.
Even if you've never tried yoga before this is the perfect place to do it, as everyone is welcome to come and give it a go and it is the perfect activity to take if you want to turn your Koh Tao experience into the ultimate chilled out beach time.
Free Time On Koh Tao – A Tropical Island Paradise
During the trip, there will be plenty of free time for you to explore the beautiful island of Koh Tao. Whilst activities to keep you busy they do not take up the entire week, so you will have plenty of chill time. Don't worry about getting itchy feet though, there is plenty to do on the island, as you will be with our group there are always tons of suggestions for things to keep you entertained. Whether it's exploring the amazing beaches, soaking up the incredible nightlife (or having tasty Thai food to get over the hangover!) feedback from previous Xtreme Gappers has always been very positive about Koh Tao. When you are not off exploring, you have a beautiful resort with a swimming pool to chill out in, and everything is within an easy walking distance of where you are staying. The beach for examples is just a 3 min walk from your accommodation.
As Koh Tao is one of the best places in the world to learn to dive, many people add on a full open water course. Once you have a license you are able to book extra fun dives locally for about £18 per dive.
For those staying for a minimum of 2 weeks, you are lucky enough to join the full moon party(check dates upon booking). We include the full moon party tickets and its super easy to head over to the neighbouring island to hit the full moon party, and party all night!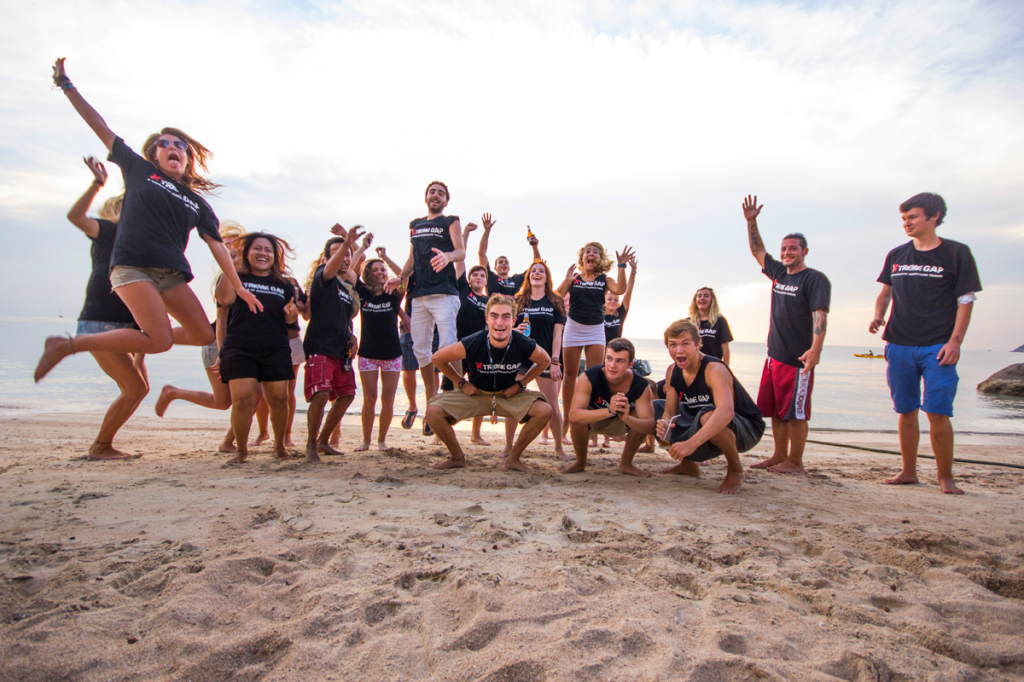 [all_in_one_carousel settings_id='8′]
Accommodation
[rev_slider koh-tao-accommodation]
Your stay on Koh Tao will be made even sweeter as you stay at a luxury diving resort. Our representative is located next door so you always have our backup and support on your doorstep.
You will be staying in a shared twin bedroom (upgrades to your own room available £25 per week) with an ensuite shower and toilet. Room upgrades to more expensive and luxurious class are also available.
The accommodation is set in gorgeous tropical Thai Gardens, with a beautiful relaxing pool. There are a bar and a restaurant available at the resort and you will be based in Sairee, the main backpacker Hub, just 3 min from the beach and a short walk to the nightlife.
[/toggle]
Trip Frequently Asked Questions
This programme begins in Koh Tao, but we can book you an extra night in bangkok plus overnight transfer to Koh Tao. This means you have to arrive 2 days before the start date of the trip in Bangkok.
If you wish help with flight just let us know.
Stay in luxury in Bangkok for a night before heading to paradise (optional).
An easy entry into the country with your arrival in Bangkok sorted, with a night in a hotel close to Khao San Road (the backpacker area). You can then spend a few days in the capital, checking out the sites or taking some optional tours. After exploring the capital city and partying on the Khao San Rd, you will be ready to head down to a paradise island, famous amongst backpackers for being the ultimate get away… Prepare yourself for a relaxing, blissful and adventurous time, spent living on Koh Tao. Your transfer tickets to take you from Bangkok to Koh Tao will be ready for you at our office in Bangkok.
Book 16 or more weeks up front to secure these deals.
Duration
Option
Price
1 (Week)
1 Option Standard Twin

GBP 479

GBP 469

(Early Bird)
Enquire here
Book today with a deposit and travel after 31 - Oct - 2020 to lock in the early bird price. "Hurry only limited early bird spots available !"
Terms: £200 GBP deposit required on booking. Full payment 12 weeks prior to trip start.
Included
Shared accommodation in a beautiful resort with pool (upgrade to single available at £25 a week)
Taxi pick up from the pier on Koh Tao
Delicious Thai meal with the rest of the group on us
Introduction to the island and details on where to find the best beaches and your activities
Free Koh Tao Guide
Amazing nightlife in cool beach bars
Your choice of Activity (beginner freediving (2 days), 5 one on one Muay Thai sessions or 5 yoga sessions, or 3 Crossfit sessions)
Snorkelling
Long Tail boat adventure
Stand up paddle session
Climb to viewpoint on stunning Koh Nang Yuang
All Equipment for activities
All instruction and guides for activities
Free Wifi at the resort
Return ticket to the full moon party with a min stay of 2 weeks (if it is on during your dates)
For 2 or 3 or 4 week packages, choose one extra adventure option per week:
Not included but available
1 night in a luxury Bangkok hotel with breakfasts (optional with upgrade)
Transfer from Bangkok to Koh Tao( optional with upgrade)
Excluded
Flights
airport pickup
Travel insurance
Meals (apart from the evening out with the rep)
Transfer ticket back from Koh Tao to Bangkok. Our rep can help you sorting this out once you are on the island.
Please note this programme does not include meals, we are often asked why and the answer is simple. You can eat out in Thailand for as little as £2. If we included all of your food, you would have to eat in the same place all the time. We feel that there is so much amazing food to discover in Thailand, that you should be able to choose where to eat and when to eat. Going out for dinner is also a social event, you will discover that during the day everyone is training, and you meet in the evening for a nice Thai Curry somewhere. Our rep can tell you all about the nice places to eat.