South East Asia is a very interesting, fun, safe and beautiful part of the world. It has a well-trodden backpacking route for good reason. This is a 9 week trip showing you the best sites in
Vietnam, Thailand and Laos in a whopping 9 weeks
! From bustling cities, to UNESCO sites and from stunning beaches and islands to lakes with dolphins. You can join three exciting group adventure trips in 3 different countries in Asia and see the best that this region has to offer.
Round The World South East Asia
This exciting trip starts off in amazing Vietnam, with the Vietnam Experience. Starting in the North of Vietnam, in Hanoi and ending all the way in the south in Ho Chi Minh. After that, we take you on a 4 week trip to all the best parts and beaches in Thailand. Then Laos, from the Capital of Thailand, Bangkok, we take you up to the north of Thailand into stunning Laos, and back to Bangkok (so no flights needed here). Wow, what a trip!
Some of the highlights include:
Including airport pick ups, English speaking guides

Meeting new friends and sharing adventures from day 1

Excellent guides who will be there for you and make this the best trip ever!

Explore bustling cities: Bangkok, Hanoi, Vientiane and many more exciting cities

Street food and Asian flavours at every turn (tip: avoid the squid jerky)

Stunning Halong Bay UNESCO site

Tuk Tuks, Rickshaws and crazy traffic!

Immersing yourself in Thai Culture

Full Moon Party

Tropical Islands and amazing beaches

Adventure options with Diving, Freediving, Muay Thai or Yoga

Discover Scuba diving, island trips and Stand up paddling

Get off the beaten track in Laos (flexible hop on hop off!)

River tubing in Laos (not to be missed!)

Meet and chat to other Xtreme Gappers with an online Buddy list before you travel too!
Xtreme Thailand Experience
Explore the vibrant 1,000-year-old of historic city of Hanoi during the first week
Learn about Buddhism and Meditation, explore interesting Vietnamese places including Pagodas and temples in the second week
Trek the amazing Sapa mountain, visit markets and learn about the culture
Explore the colonial architecture and amazing beaches of Hoi Ann
Visit Nha Trang and its amazing beaches, beach time!
Amazing shopping in Hanoi
Visit Hoi Ann Old Quarter.  It has a distinctly French colonial flare
Finish with an epic road trip all the way down south to Ho Chi Minh City
Exploring exciting Bangkok by the backpacking Mecca Khao San Road
Learning about Thailand's culture, history, and visit temples
Stay and work with elephants
Bathe in waterfalls
Full Moon Party
Adrenaline Adventures on Koh Tao like diving and freediving, Muay Thai, cross fit or yoga course.
Koh Tao adventure day. Get ready for some serious action on long tail boats, and snorkelling
Welcome dinner out on Koh Tao
Activities like SUP and Discover Scuba Dive
Lots of Chill time on Koh Tao, and beach parties to remember
An amazing laugh all the way with fun group leaders to guide you and the rest of the group
Connect from Bangkok up to the Amazing North of Thailand on trains and traverse Laos with our backpacker buses and guides.
Transfer back to Bangkok Included where you catch your flight to Hanoi
´Jump-on' and 'jump-off' the bus anywhere that you want along the way around our comprehensive route
Go further off the beaten track for unique down-to-earth stops
Enjoy local culture and amazing activities
Travel with like-minded people, our legendary guides and local drivers
We can organise guest houses, hostels, budget hotels, eco-lodges and camping accommodation options en route
Fully guided trip throughout Southeast Asia with loads of activities and inclusions
As this Round the World trip is built out of 3 trips, we would love to give you a lot more information on each trip. In the links below you will find all the information in much detail. but if you have questions you can, of course, email us, see the web form at the bottom of the page where you can leave your details and ask your question. We will get straight on it!
Check the full itineraries here
The order of the trip
Vietnam: 3 weeks
Thailand: 4 week
Laos: Flexible
Experience Thailand with our top selling trip. Four adventure-filled weeks, that will take you from Bangkok to the heart of Thailand, to the tropical beaches of Koh Tao. Our included airport collection, Thai guides, guaranteed group numbers and jam-packed itinerary make this ideal for first time or solo travellers. Meet new people, make new friends, plus choose from 5 awesome activities for your 3rd week and have an unforgettable month-long journey.

Take an epic three week road trip throughout Vietnam from Hanoi to Ho Chi Minh City. New friends on new adventures along the way, in truly one of the most breathtaking Southeast Asian countries. Fully guided full on bring it on! Insanely good value as well.

Get off the beaten path and visit Laos! Let us take you off the beaten path on our backpacker trip in Laos. Starting in Bangkok Thailand, you can head through one of the most rewarding countries in South East Asia, and experience the joys of tubing, waterfalls and mind boggling scenery and beer Lao!

Please wait, the form is loading ...

Trip Frequently Asked Questions

Included

Vietnam

Breakfasts and accommodation throughout programme
Airport transfer on arrival, to make it easy for you!
Activities as per itinerary
Orientation by our rep
Vietnamese cooking lessons
Vietnamese language lessons
Jungle trekking or cultural immersion at local schools. Let us know at time of booking!
Access to buddy lists before you go

Thailand

Personally met at the airport
Super nice and professional guides
All accommodation
All activities as per itinerary, elephants, waterfalls, nationalparkss, temples
Breakfast in the first 2 weeks
Nights out (own expense but guided)
Transport taking you to different parts of Thailand
Free Wi-Fi at most resorts
Exploring the history and culture of Bangkok by visiting various temples
Pick your own action pack during week 3. Yoga, Muay Thai, diving or free diving
Snorkeling in crystal clear waters around a tropical paradise island
Boat ride to stunning tiny island
Walk to stunning viewpoint
Full moon party ticket included! 

Laos

Pre departure information
Pick up at different locations in Thailand and Laos
Reservations for extra tours and accommodation will be made by the guide
Flexible hop on hop off Tour Pass, min 11 days needed, but we give you 2 weeks to complete it!
All Transportation
Services of the Tour Leader who can help with accommodation and activities

Excluded

Flights
Visas
Travel Insurance
Accommodation in Laos
Meals in Vietnam, Thailand and Laos (in Vietnam and first 2 weeks of Thailand we include breakfast)
Transport from Hanoi to Bangkok (Flight)

Dates

Route Vietnam/Thailand/Laos

2020 start dates

Saturday 25 January 2020
Saturday 22 February 2020

We have a new trip for start dates after Feb 2020; please contact us for more info!

See Other Round The World Trips
The quintessential paradise island destination, Fiji is the perfect destination to escape to find yourself. Clear turquoise seas, amazing snorkelling and a great backpacker trail, you are sure to have amazing nights, and good times. The trouble is you will probably never want to leave. Various hop on hop off passes to choose from, all-inclusive and transport only options.
[rev_slider feejeeexperience]
Hop on & Hop Off or book a package with all transport and accommodation. Dreamy beaches in south pacific islands await on the award winning Fiji Experience. Pick a pass and off you go. Super simple to get around and a great way to meet people in Fiji.
Fiji Experience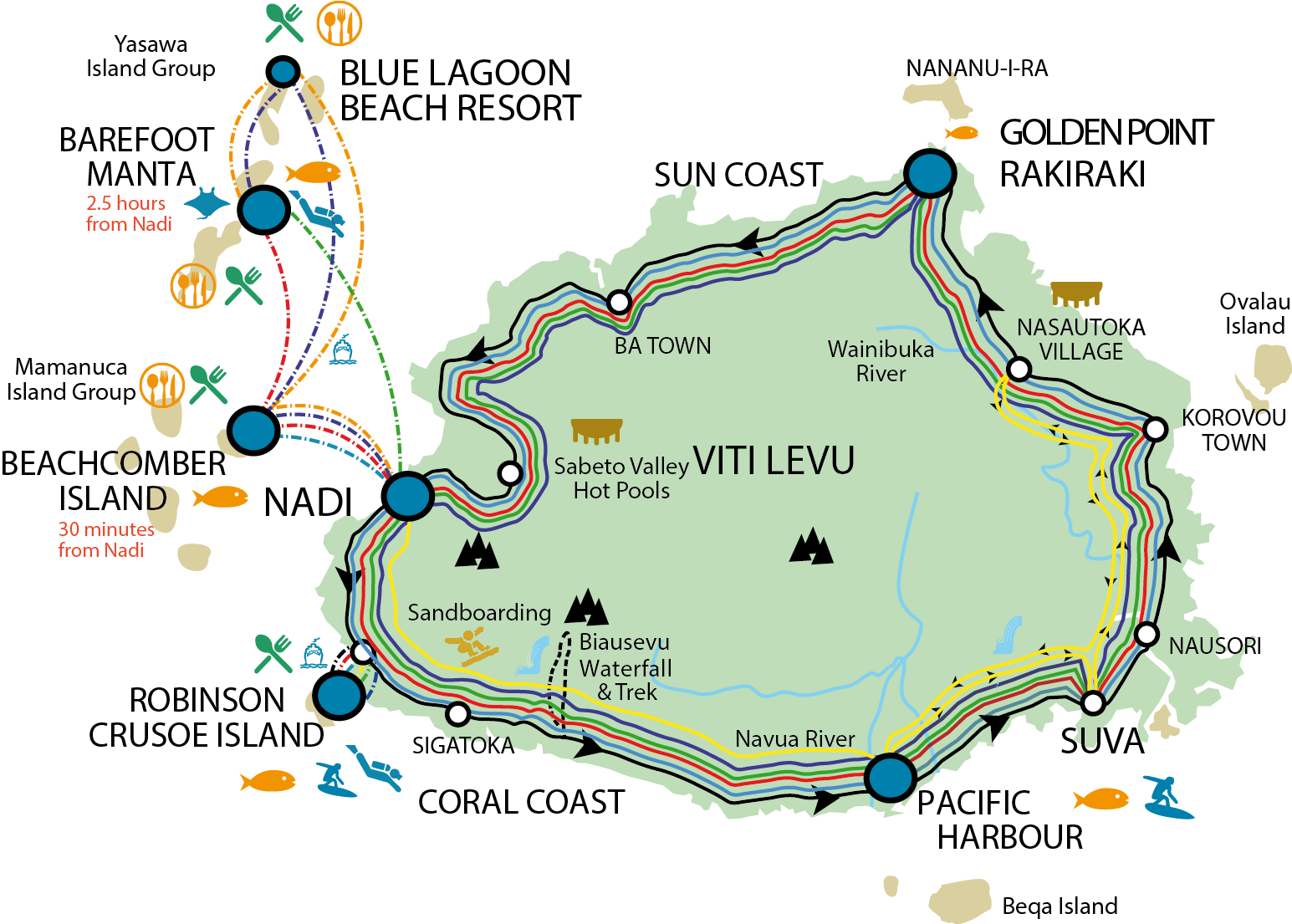 Fiji Experience Highlights Include:
Swimming with the Manta Rays at Mantaray Island Resort
Sevu-sevu ceremony: Taking part in a traditional kava ceremony is a privilege and is an ancient practice still practiced in Fiji regularly.
Visit a real village: No experience compares to a visit to a Fijian village. Take the time and effort to have a chat and hang around with the locals for a few extra rounds of kava.
Beachcomber Island, world famous in Fiji this is a must!
Suva City: The largest city in the South Pacific (excluding New Zealand and Australia of course). Bustling with activity as the cultures of Fiji mesh.
 
Fiji Experience Passes.
We have 4 passes available
9-day Triple Treat
8-day Mango´s & Manta rays
6-day Lay Low
4-day Whole Hula!
Click on the pass for the details.
AMAZING FIJI RESORT ACCOMMODATION – ON A BUDGET!
The Fiji Experience offers the best in Fiji budget resorts at the best value for money. The accommodation includes everything you could want in an island experience including beaches, diving, snorkelling and loads of other free activities included in your accommodation price. Your Guide can book and guarantee your accommodation for you daily in dorm, double or twin style rooms –  Sega Na Laga (NO WORRIES !).
AMAZING RESORTS…
Stay at award winning accommodation that is environmentally aware, yet very comfortable and located in fantastic settings at budget price. Here is why we choose them for your Fiji adventure!
Volivoli Beach Resort: All the elements of beachside living come together at Volivoli Beach, with a perfect blend of relaxation, water sports, nightlife, cultural activities, fantastic fishing spots and world-class diving. The complex stretches along the coast from a hidden cove to a stunning sand spit, with its own Fiji-style thatched-roof beach bar. A variety of accommodation is available to suit all preferences. This is Fiji's newest resort and have spared no expense to make this place truly unforgettable! Oh and did we say WORLD CLASS DIVING!!
Robinson Crusoe: Robinson Crusoe Island has been an icon in Fiji for nearly two decades
Uprising Beach Resort: Located in Pacific Harbour, these guys won the best budget accommodation award for 2009 & 2010! This is an amazing beach front property with Beachfront Bures, Garden Bures, and Dorm Style accommodation. The restaurant produces amazing meals at budget prices! Free and paid activities operate daily including Jet Ski Safaris , Shark Diving (pre-booking suggested) and other Motorised Water Sports.
Beachcomber Island Resort: Afloat in a tranquil marine sanctuary in the beautiful Mamanuca Islands, this little island paradise offers so much for so little. Fantastic island feasts, a huge range of water sports, scuba diving, nightly live music and entertainment. Beachcomber Island is world famous and exactly why we recommend it.
Mantaray Island Resort: There is a host of small, budget resorts in the Yasawa Island Group but after a lot of looking around, we chose what we know is the best! Mantaray Island Resortaward-winningod, a world class reef right on its beach and great facilities for an island resort. This little bit of paradise cannot be beaten for sun, fun and entertainment. Swim with the majestic Manta Rays from May " October, you may be a little lucky outside of these times!
Robinson Crusoe Island:A favourite with backpackers for many years! Famous for its legendary fire dancers and laid back atmosphere.
GUARANTEED ACCOMMODATION!…
If you pre-book an accommodation inclusive pass your accommodation is booked and guaranteed! We've also discounted it as part of the package so you get an immediate saving! If you book a Transport only pass we will guarantee to be able to get you shared Dorm accommodation, however Private Double / Twin is not. We will try our best but Private Rooms do fill up pretty quickly!   Please note during peak season we will might have to put you up in an alternative accommodation option depending on availability. Alternative accommodations will be of an equal standard. To avoid this please book early so we can booking your accommodation accordingly.
Trip Frequently Asked Questions
Included
Please see each individual passes for inclusions relevant to that pass. To make sure your hard-earned cash goes as far as possible, the following activities are included on the Fiji Experience passes. That means, no additional cost for all the fun stuff, which means more money to sit back and enjoy those long awaited, famous Fijian cocktails at some of Fiji´s best beach resorts. All activities are optional and should you not want to do them, there's always the beach!
Excluded
Flights to Fiji
Travel Insurance
Spending Money
Meals unless stated on the itinerary. Meal plans are common in most Fiji resorts and are also applicable at several other Fiji Experience resorts including Robinson Crusoe Island, Beachcomber Island, Mantaray Island and Blue Lagoon Resort. It's payable upon arrival at the resort.